Waterproof Flooring in Beavercreek, OH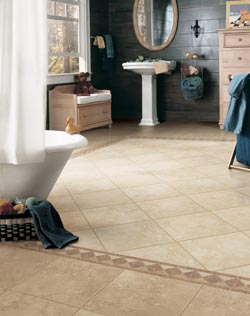 Equip your bathroom and kitchen with our high-quality waterproof flooring in Beavercreek, OH. Finding the right surface for areas that are frequently exposed to moisture is not always easy. That's why we've taken it upon ourselves to supply homeowners with a solution that is as visually appealing as it is functional. Our waterproof flooring is perfect for any home.
Buddy's Flooring America is dedicated to assisting every customer in finding the flooring that matches their style and interior décor. At our expansive showroom, you can find a diverse selection of surfaces and gain a better idea of how each one might look in your home. Our dedicated staff is also available to answer any questions you might have and address your concerns.
Appealing & Functional Surface
If you're looking for flooring that looks great and requires little maintenance, waterproof luxury vinyl planks are right for you. While ideal for bathrooms and kitchens, this easy-to-clean surface is just as aesthetically pleasing in any room. Whether you're coming in from an afternoon swim or you've accidentally dropped a glass of wine, our waterproof floors resist moisture damage and stains.
Our showroom allows you to see our vast inventory in person, giving you a better idea of how each option might look in your house. Additionally, our dedicated staff is available to make suggestions and recommendations on the products you're interested in and answer any questions you might have. When you're ready to upgrade your home, see why we're the premier distributor of waterproof vinyl flooring.
Installing Your New Flooring
After you've chosen your flooring, the next step is to install your selection. When you're remodeling your home, the last thing you want is to stress overlaying the flooring on your home. It's a tedious and lengthy process that should be handled by experienced professionals. That's why, after you've purchased your flooring, we provide water-resistant flooring installation. We'll take care of every aspect, ensuring the surface looks great and lasts for years to come.
The Premier Flooring Supplier
We realize you have several places to purchase waterproof vinyl flooring, so we invite you to shop at Buddy's Flooring America, where we offer a comprehensive inventory of flooring products and excellent customer service. Our dedicated flooring specialists work closely with you to determine your needs and goals. From there, we can assist you in picking out waterproof flooring that fits your specifications.



Contact us to find out more about our waterproof floors. We proudly serve customers in Beavercreek, Ohio, and the surrounding areas.